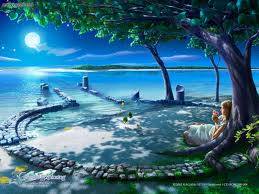 "If you cannot attack the message, then attack the messenger."
Now that many of my former friends, who I cared for immensely, have had the opportunity to serve their guru by untruthfully maligning my character in response to my truthful memoir, I feel it is time to shed some light on the reality of the situation. The testimonies on the Amma Scandal site attacking me, which are now documented for the world to see, prove how low people are willing to stoop to protect their beliefs.
What the organization perhaps failed to consider is that I have in my possession numerous email and handwritten letters from many of these devotees and from all of the head swamis. What better way to defend myself than by sharing what some of these former friends had to say about me shortly after I left the organization.
For now, I will share an email from Radhika Nair, dated 12.1.1999.
My dearest Swamini Amma,
I do not know how to start. Partly, because I have so much to say and partly, because I do not know how to say it. Please forgive me if I say something wrong. Firstly, I miss you so very much. You are my sister and oddly my mummy too. I do not open up easily and not being born with a sister, you are probably the only person I felt comfortable talking to. As a mummy, you always took care of me all the time, feeding me, clothing me and lovingly advising me.
In spite of all the work and responsibilities you had on the tour, many a time, you physically nursed me through my episodes of back pains, leg injuries and colds. Now that my sister and mummy are both physically and mentally drained, I feel sad and lost that I cannot serve and take care of you, or, express my love and appreciation for you. You have been my constant inspiration and aspiration. I have always secretly aspired to be just like you. Your noble qualities of tyaga, dedication, shraddha , fairness, sound judgement, one-pointedness, loving and caring nature, and above all, always being a great listener, have been a source of my contemplation.
We are a family, a very big family. Like in all big families, there are a few sisters and brothers who are uncaring and unthinking. But, there are many of us who have only love for you. Please remain in our family, and let us try and share some of your agony, fear and helplessness. Being shocked and grieving, please give us a chance to do something right this time. The relationship you and Amma have is beyond anyone's understanding. All I know is the despair, loss and helplessness you feel, Amma feels all of it too. She is also mentally drained. She told me that "Gayatri feels that Amma has not shown her any love, but Gayatri is a part of Amma. She has grown up on my shoulder". Saying this, Amma broke down into tears and sobbed.
You are and always have been strong. Now it is due to your very bad astrological time lasting till June 2000, that you are going through this. It is perhaps fate and beyond your control. You will be very vulnerable too now. This time away in solitude and contemplation may remind you of all of us who love, respect, revere and adore you so dearly. Except for a handful, all in Amritapuri only know that you are taking this time off to be in silence, regain your physical health and write your book. So when you are ready, the welcome wagon is waiting and your room is beautiful.
On your 41st Birthday party, I felt ashamed and sad that Priya, KU and myself could only come up with that "dumb" poem on JOY. So here I am all alone going to make up a new poem for you. I am sure it will also turn out stupid, but this one is out of love.
JOY
Joy to you was in giving
In giving your heart and soul to Amma
In giving your body in the labor of love
In giving your hands by nourishing us all
In giving your smile by understanding our woes
In giving your mind by helping us with decisions
But, Joy goes around and comes back
So, Joy to you should also be in receiving
In receiving, give us a chance to give our hearts and soul to you
In receiving, give us a chance to give our love to you
In receiving, give us a chance to give our nourishment to you
In receiving, give us a chance to give our understanding to you
In receiving, give us a chance to help you, our favorite Swamini Amma, our dearest Sister and our loving Mummy.
With lots and lots of love and hugs,
Your "teddy bear" of a sister
Radhika Nair
P.S. I am at AIMS with KU. Again he has pains and is suspected as having Appendicitis. It is now 3:30 AM. Today, the tests will show if he needs surgery or not. Please, please E-Mail us back. I have never received a personal E-Mail yet. But, to keep it private, you may sign it as "mummy and Sister". I love you.
KU want to send you an E-Mail too.
Dear Swamini Amma
I miss you very much. I wish you were here. I am very sick again. I had a check up again. The doctor said I have to have an operation. Please pray for me. Are you having fun, swimming and going for long walks? Is it snowing? I wish I were there to make a big snowman and have a snowball fight with you. I have to start school soon. I am glad that I got to send you an E-Mail. I wish the tour would start again and me, you, Swamiji and my dad and Amma would all be together again. Come back soon. I still have your Happy Birthday balloon. Priya will be very mad that I got to send you an E-Mail. Please send me an E-Mail and remember not to my sister.
I love you very much
From krishnanunni